CLIENT AND BRIEF
Put forward by a family of six who have outgrown their current home – also designed by Utz-Sanby – the brief required a spacious, modern and comfortable home equipped with robust technology including the following:
mobile-controlled electronics and appliances
hydronic underfloor heating
a twenty-thousand litre underground water tank
a flueless fireplace
a spa
kayak and bicyle storage.
Also featured in the design:
a master retreat
an operable outdoor roof
a swimming pool.
One of our favourite elements, is the hardwood timber screen which wraps around the master retreat, acting as a permeable façade, enclosing the timber-clad walls and outdoor kayake storage.  It was exciting watching it being installed and bringing the form to life.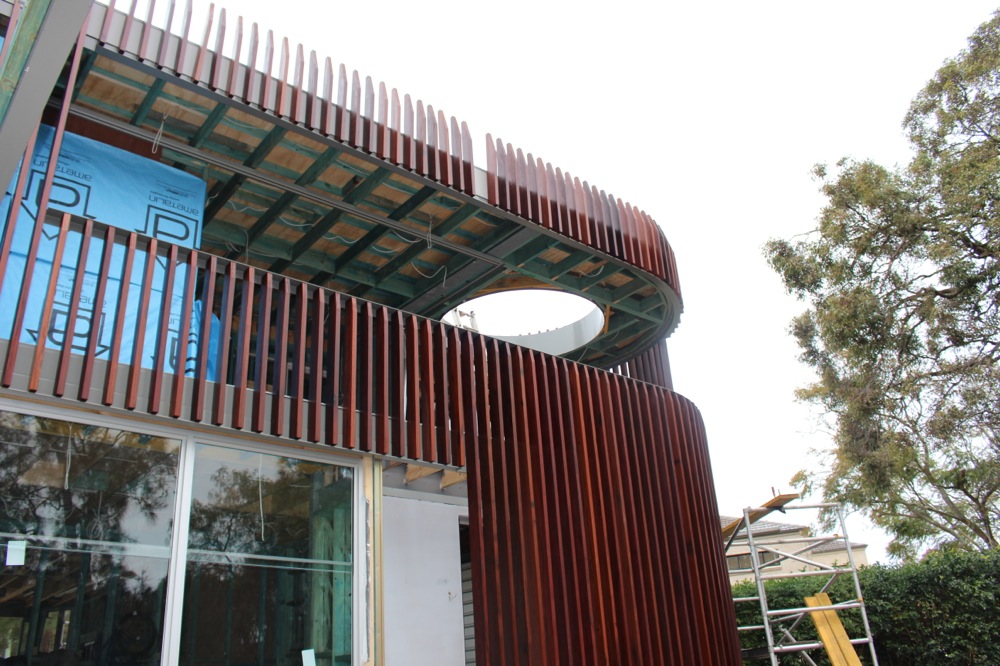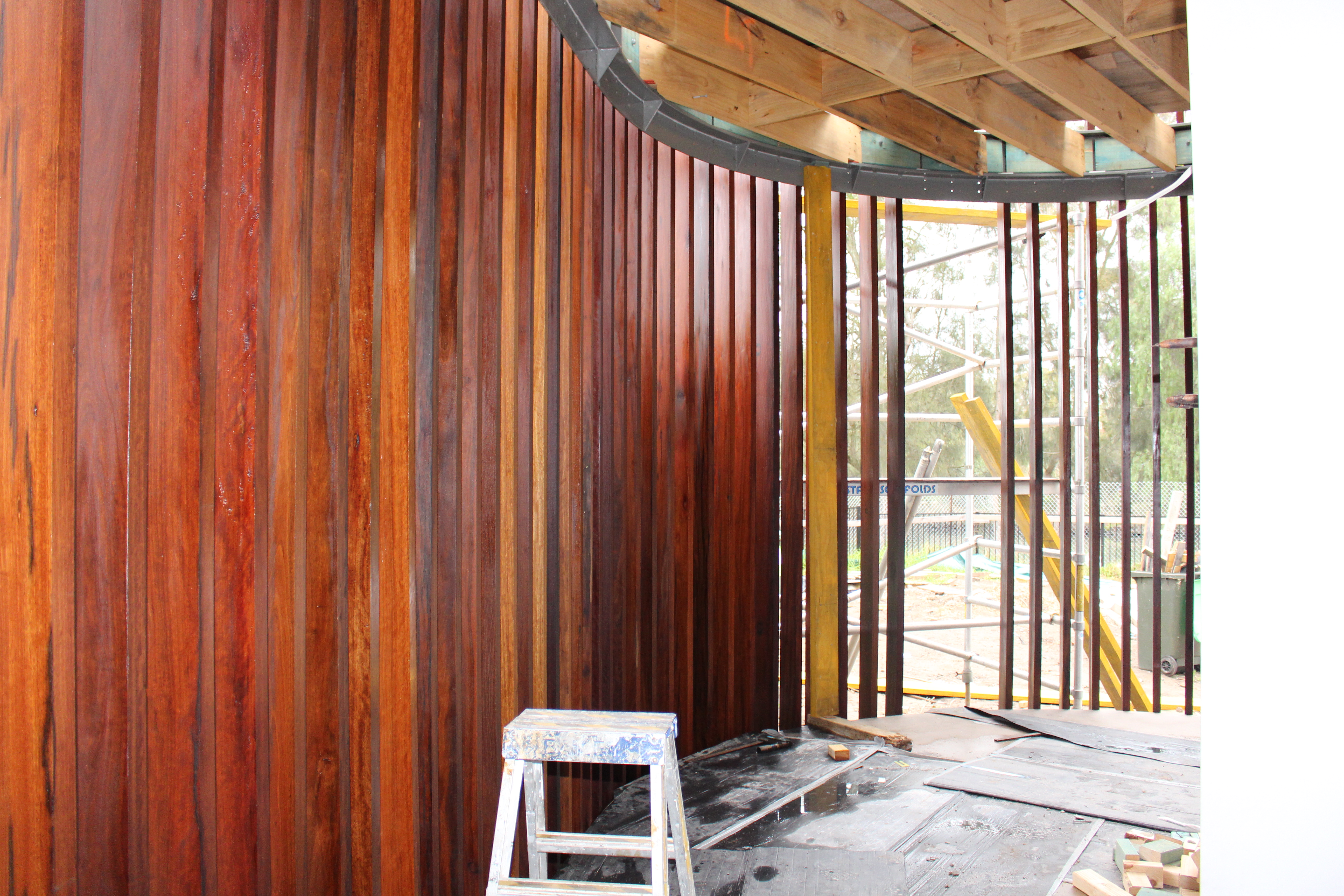 EXISTING HOUSE AND SITE
Of equal excitement, is the situation of the existing house, which is being renovated to form the new one – the construction now being well-underway. The site is cradled by Manly Lagoon in almost all directions, making for stunning views, which will be captured and brought into the house by raised roofs with louvred clerestory windows, panoramic openings and beautiful outdoor living areas.
Of course, the close proximity of the lagoon also meant planning constraints and council restrictions. But those were overcome, and we are pleased to be waist-deep in the most fun part of the process: construction!
The existing house, built in the 1950s, has been partly demolished, and its retained elements have been rebuilt for structural stability. The new design works around the layout of the existing house, making the most of its orientation and position on site.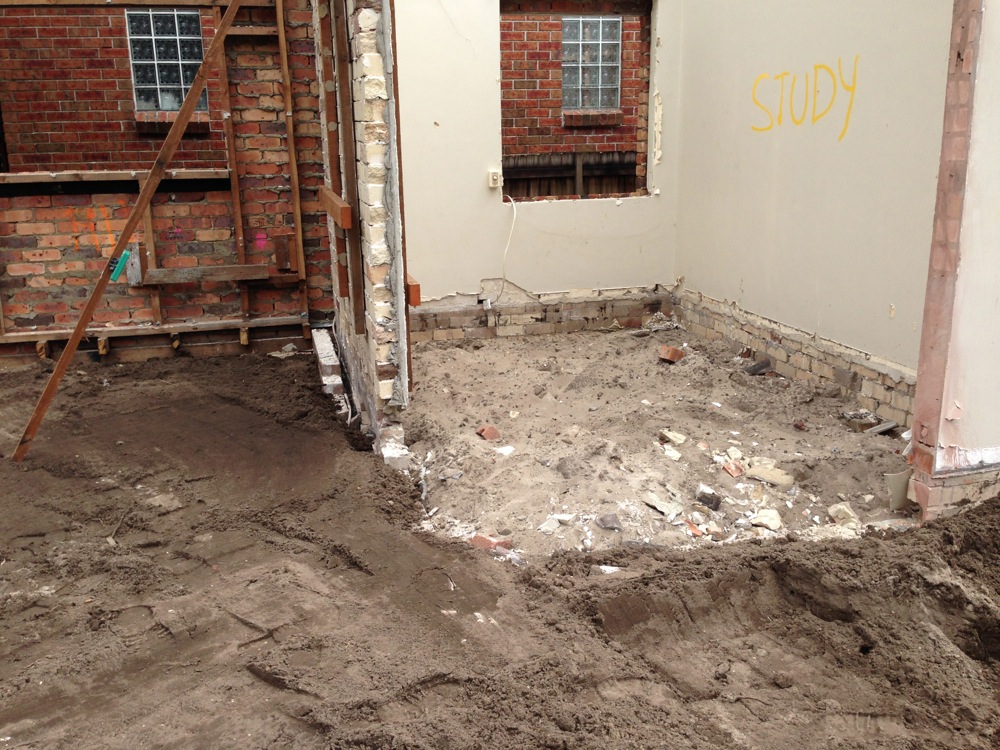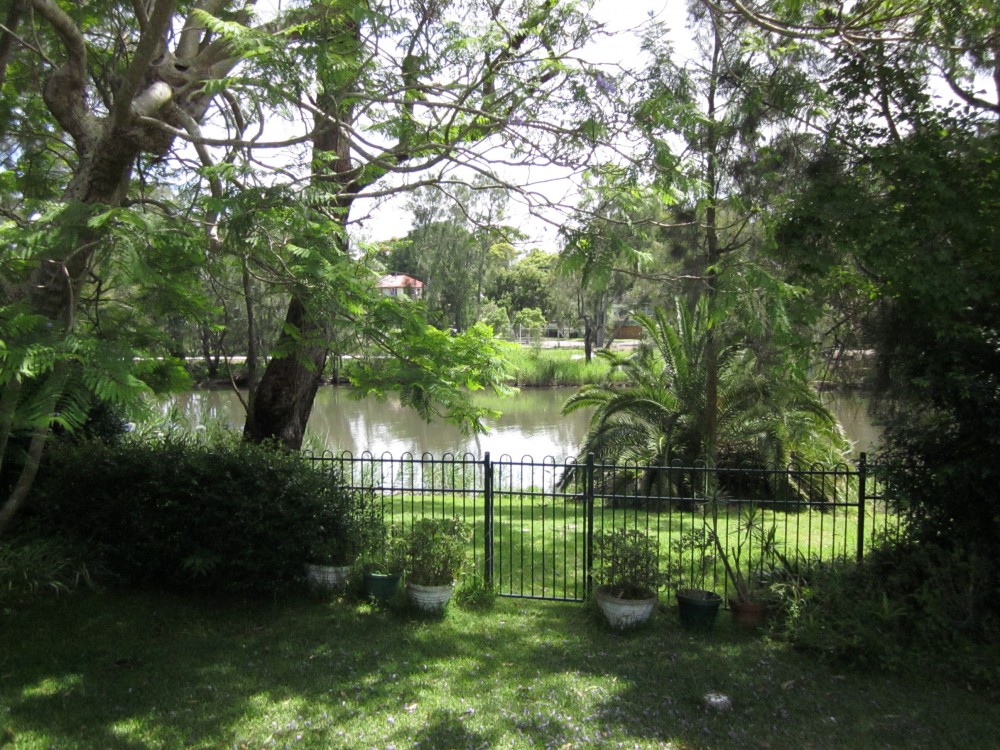 DESIGN
While designing this family home, we focused on creating sunlit spaces, communal living areas, convenience and aesthetic.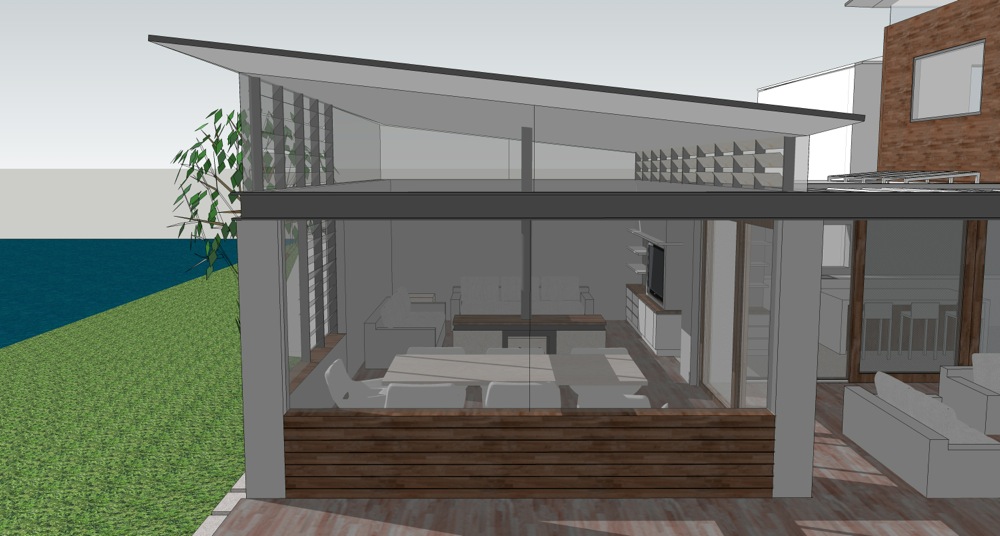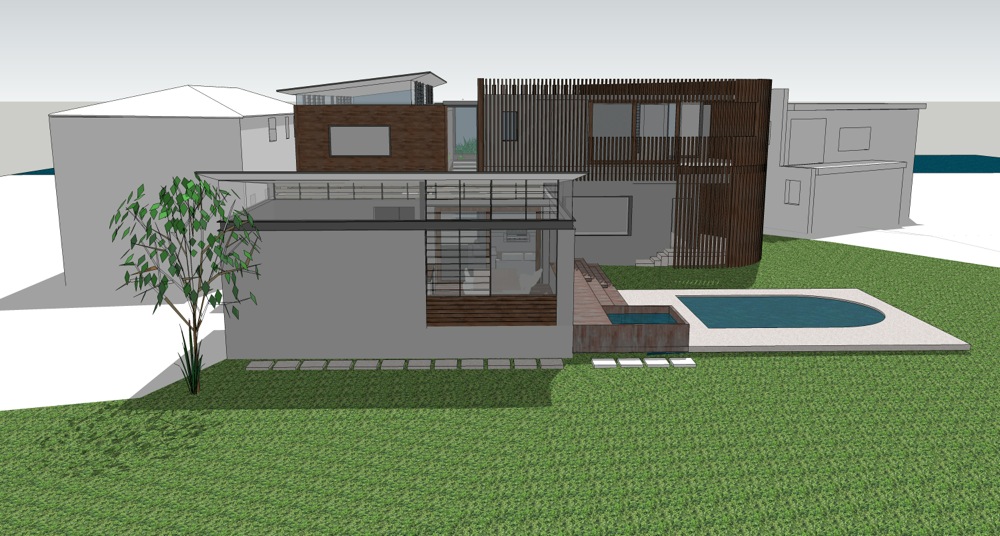 CONSTRUCTION
Visit our Facebook page for previous and upcoming updates on the progress of this project! https://www.facebook.com/pages/Utz-Sanby-Architects/
LATEST SITE VISIT
We visited the site on the 14th of July, and construction looks promising. It's rewarding seeing everything coming together.
Liaising with the client, builder, and other sub-contractors (electricians, joiners, plumbers and others), we are now finalising colours, joinery, power-outlets, pelmets, window and door heights, ceiling heights, skirtings, ceiling fans and other details. It's a complex but important process! Details make all the difference in the end – their careful and appropriate selection turns a building into a home – and not just any home – the client's home!
"God is in the details." – Mies van der Rohe
Even though details are drawn and documented before construction is commenced, there is always finalising to be done!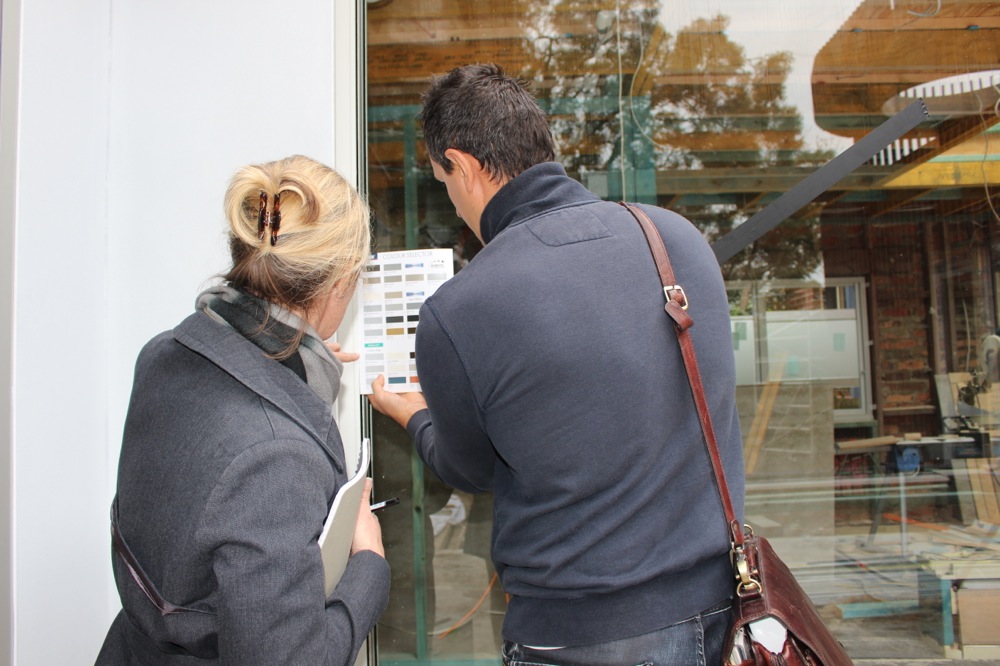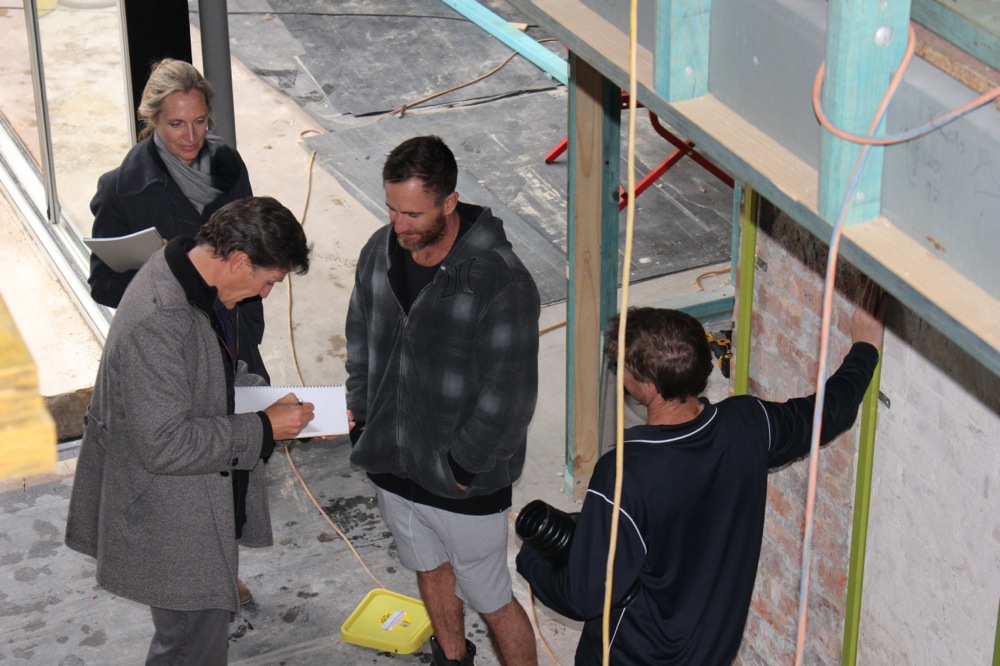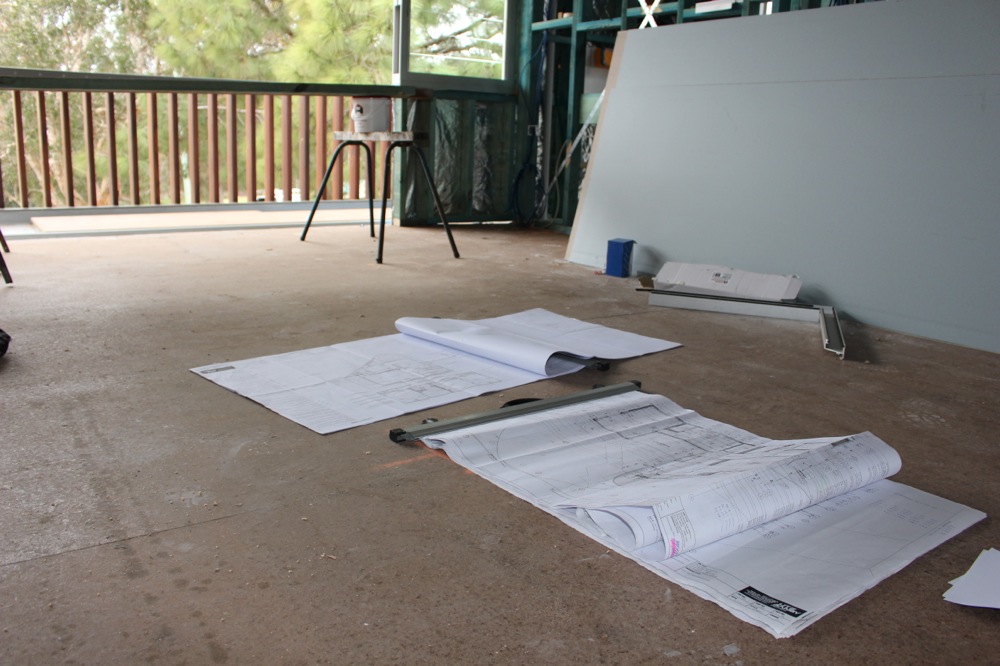 STUDENT INVOLVMENT
A Second-Year Architecture student at the University of Sydney, has been following the project since the beginning of the year, as part of an elective unit of study. Her task has been to investigate, first-hand, the construction of the building, and to then document and draw her findings. Riddled with alterations and additions, it has been a challenge for her to resolve the workings of this project – her first on-site practical experience – but she is thoroughly enjoying the process, and no doubt, learning many new things in addition to what is taught in university lectures and tutorials.